Nail Services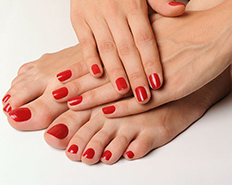 This is just a sample of what we do. Our spa nail services are unsurpassed and we are proud of our attention to detail service that we give each guest.
Our Philosophy
Our philosophy focuses on healing, wellness and relaxation with an emphasis on natural ingredients. We believe that you can have beautifully manicured nails without having to expose yourself to the toxins and chemicals found in the typical nail salon. With that in mind, we have incorporated healthy product alternatives. All natural ingredients and 100% essential oils are used for all of our hand and foot exfoliates that we make on site.

Our experienced staff will pamper you from the moment you walk in the door. All of our technicians are licensed in New Hampshire and follow proper New Hampshire State law protocols for manicure, pedicure treatments.
Additionally, our technicians regularly undergo testing and monitoring to make sure they continue to maintain those standards. .
Your safety is our top priority. All of our implements are disinfected using hospital grade procedures
pedicure bowls are thoroughly cleaned after each use and anything that is porous is used for one single application and then disposed of.
From the cleaning products we use to the furniture we decorate with, we believe in social responsibility and strive to be green, sustainable and conscious in how we conduct our business.


Return to Top
Service Policy